Calming Dog Anxiety Supplements
DOG CALMING CHEWS
This calming aid helps support a dog's nervous system in reducing stress and tension and helps calm hyperactive behavior. Particularly useful in stressful situations including excessive dog barking, thunderstorms, travel, grooming, fireworks, separation anxiety, bringing home a new pet, or trips to the vet.
STRESS RELIEF DREAM TEAM:
The combo of thiamine and l-tryptophan helps reduce stress and tension. Thiamine (B1) is a vitamin in the B complex group that is water soluble and may have calming properties. L-Tryptophan may increase levels of serotonin in the brain, a calming neurotransmitter.
SUPPORTS SENSITIVE STOMACHS:
Included in this unique Chew + Heal formula is ginger and chamomile, both help settle the stomach and are often used to ease indigestion for pets. Ginger helps settle sensitive and upset stomachs, which is especially helpful for road trips and travelling.
REST & RELAXATION:
Melatonin is a naturally produced hormone which helps regulate sleep and wake cycles and may help promote rest and relaxation. Chamomile is plant extract used for sleepiness, and passion flower may promote relaxation, soothe tension and relieve occasional anxiety and stress.
FAST ACTING RELIEF:
Give these dog calming treats approximately 30 minutes before the stressful situation will commence. They will last for 2-4 hours, depending on stress level. Designed for dogs over 12 weeks, check the product package for the suggested dosage for your size pet. The chews are ease to chew, especially helpful for elder pets, and they're delicious! Proudly made in the USA.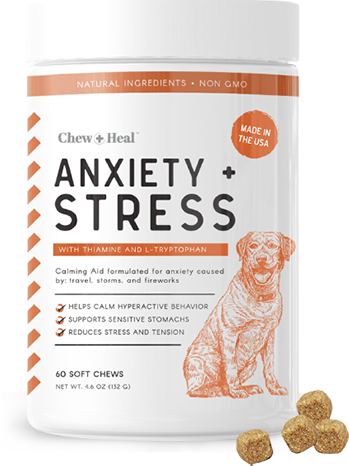 Featured Ingredients
Ginger

Passion Flower

Lavender Extract

chamomile
Featured Vitamins & Minerals
Thiamine (B1)
L-Tryptophan
Suggested Use
Formulated with a proper balance of antioxidants, vitamins and minerals to help promote healthy skin and coat.
Body Weight

Up To 26 Lbs
27 To 50 Lbs
51 To 99 Lbs
100 Lbs and over
Amount Per Day

1 Soft Chews
2 Soft Chews
4 Soft Chews
6 Soft Chews
Give recommended amount 30 minutes prior to Stressful situation. Do not exceed double the above specified amount In a 12-hour period.
Ingredients
Thiamine & L-Tryptophan
The stress reducing dream team! The combination of the serotonin boosting properties within L-Tryptophan and the calming properties of vitamin B1 in Thiamine makes this a powerful stress reducer.
Melatonin & Chamomile
Formulated to promote relaxation and rest, melatonin is a sleep regulating hormone and chamomile and passion flower help reduce stress by calming and relaxing the mind and body.
Ginger for Stomachs
If your dog has an upset stomach, that's going to be a tough road trip or flight. Ginger and chamomile help calm sensitive stomachs and ease indigestion, helping reduce anxiety while traveling.
Fast & Effective
Give these delicious treats to your dog half an hour before a stressful situation an see the fast results. Made with premium ingredients tested for absorption to ensure potency.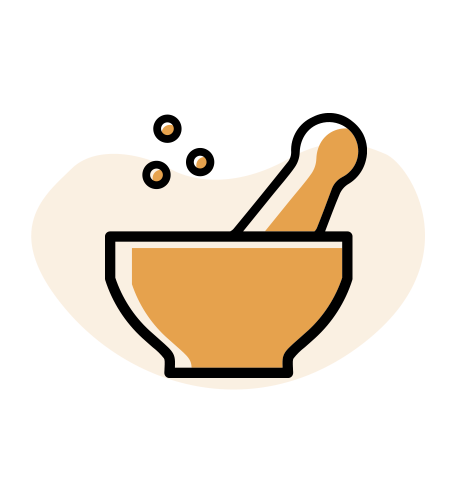 All Ingredients
Active Ingredients per 2 Soft Chews: Chamomile - 100 mg, Thiamine Mononitrate - 50 mg, Passion Flower - 50 mg, Ginger - 50 mg, L-Tryptophan - 30 mg, Melatonin - 20 mcg Inactive Ingredients: Brewers Dried Yeast, Canola Oil, Dried Potato Product, flaxseed, Glycerin, Lecithin, Maltodextrin, Mixed Tocopherols, Natural Flavoring, Rosemary Extract, Sorbic Acid, Tapioca Starch, Vegetable Oil, Water

What our Customers say


My dogs scratching has nearly stopped!!!
My dogs really enjoy having these as treats. It's only been about a week, but I've already noticed less scratching and their coats seem to be healing. So far these are the only things that have helped with their allergies. I'm excited to see them finally feel better. I'll definitely be buying more.


Great 👍 product for the 🐶
My dog likes the vitamins over the doggy treats that he normally eats so hopefully it works to elleviate all the things we have going wrong as we and our dogs age sometimes it may not be as graceful as hoped. However with vitamins it brings back the vitality of your dogs youth the same they had as a puppy.


5.0 out of 5 stars Great calming chew for dogs!
My dog LOVES these chews and it has really helped him stay calm during thunderstorms! I will definitely be giving him these chews around July 4th when fireworks are going off! It is funny that I take the ingredients in this chew for sleep problems myself! Tryptophan, Melatonin and Chamomile are all part of my sleep regimen and these chews definitely help calm my anxiety-ridden pooch when he hears thunder! He also sleeps more soundly on the nights he gets these! Thanks for a great product! Great quality at a reasonable price!
Denise Hudak
May 21, 2020
Shop Now
Seems to work
Well, I don't know about the favor as it is for the dog, and I didn't eat one. I used it during a thunder storm as my dog gets really upset, and it seems to work. I will try it again tomorrow as it's July 4th fireworks.
They work great
I wish more came in a container for the price. For small dogs it's probably worth the price,but for larger animal that have to eat 4 at a time because of their weight well they don't last very long. They do work great though. My dog is 10 and she hates thunderstorms and fireworks and these help her make it through in a more calmer way.
Like it's a treat
My Maggie loves these. You would think they were her "treats". I use them when we leave her home alone. She has separation issues and hates to stay alone. I've noticed when she is calm the anxiety isn't so bad on her.
Works but not as well as I had hoped.
My girl loves the taste but the effect is very short lived and not very strong.
My dogs love these & I can breathe when I am away for an hour or two
My two female pit bulls started getting creative trying to run away to the park so I needed a way to truly feel at ease when I had to leave them at home alone for a few hours. My dogs never hesitate to gobble these up and they relax the entire time. Lounge around while I am away getting things done. Everyone wins!