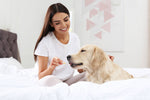 Traveling with your furry friend can be very enjoyable or incredibly stressful, and it comes down to one detail: planning. 
According to the 2017–2018 National Pet Owners Survey, 68% of US households own a pet. That's 89 million dogs, an increase of 56% since 1988. And of that number, about 37% of pet owners travel with their pets yearly, up from just 19% a decade ago. The International Pet and Animal Transportation Association reported that more than four million live animals are transported on planes yearly.
One of the main questions that need figuring out is, are dogs allowed in hotels? And if yes, do all hotels allow dogs? While hotel policies are constantly changing and more are becoming dog-friendly hotels, here are the pointers you will want to keep in mind. Always ask these questions before booking a hotel or Airbnb to ensure a comfortable stay.
Is There a Fee?
Hotels often have an additional pet fee, ranging from a one-time fee of $50–$250 to a daily charge of $10–$50 on average. How much is the price of the hotel you're looking at? Is there a security deposit? Does the rate change if you are bringing multiple pets? Some hotel chains welcome your pets without asking for extra cash — no additional fees, no deposits, and no one-time charges. Consider one of these hotel chains where dogs stay free for your next trip. Our favorite pet-friendly hotels with no extra fees include:
Kimpton – With no additional fees or deposits, Kimpton Hotels rank high in terms of pet-friendliness. Plus, they do not have any size or weight limit or limit on the number of pets allowed.
Red Roof Inn – This upscale economy chain has over 580 locations in the US and additional locations in Brazil and Japan. They allow all family pets weighing 80 lbs. or less.
Motel 6 – Motel 6 hotels are an excellent option for anyone on a US road trip, with over 1,400 locations across the United States and Canada. They welcome all well-behaved pets, with a maximum allowance of two pets per room.
Are Pets Allowed on The Furniture or Bed?
Even at a hotel where dogs are allowed, they do not necessarily provide a place for your dog to sleep, and they might have restrictions when it comes to sleeping on the beds and furniture. Make sure to ask, and in case, bring a comfortable crate, blanket from home, or even a plush mattress.
Is There a Weight Limit? Is There a Breed Restriction? 
Some hotels limit your pet's weight, and others have dog breed restrictions. But these are not necessarily rules set in stone, call first and see if there's some wiggling room. 
How Many Dogs Can Stay in a Hotel Room?
If you're traveling with multiple pets, this question is a must. Even dog-friendly hotels have quantity limitations, and it's best to know upfront before arriving. 
Can You Bring Dogs into Hotels and Leave It Unattended?
This is bound to be one of the most often-asked questions. Once you've found a hotel that suits your needs and is a hotel where dogs are allowed, you should find out if you can leave your pet there when you're planning not dog-friendly activities, like grabbing a drink, something to eat, or going for a quick dip in the pool. 
If you leave them behind: 
Plan to come back as soon as possible
Make sure it has acclimated to their surroundings
Crate your pet if he is crate trained
Put on his favorite TV show
Make sure he has ample water
Place the "Do Not Disturb" sign on your door
Alert the front desk that your pet is alone in the room, and be sure they have your cell phone number
Consider setting up a pet cam - some pet parents love this option
What Pet-Friendly Amenities Does the Hotel Offer?
Different dog-friendly hotels offer various levels of dog amenities. Some hotels provide basic care, while others go out of their way to ensure your dog is comfortable and your stay is pleasurable.