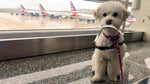 Yes! You got a week off from work and are planning your much-needed vacation. But you can't bear the thought of leaving your pet behind, wondering if flying with a dog is possible and how to travel with a dog on a plane. In short, pet parents can fly with their dog depending on their breed, size, and their flight destination, and the airline they intend to fly on. 
This article will answer most of your pressing questions, mainly relating to flying with a dog on Southwest Airlines.
Can You Fly with a Dog on Southwest Airlines?
Southwest writes on its website, "We welcome small vaccinated domestic cats and dogs in an appropriate pet carrier in the cabin on domestic flights. Carriers must be stowed under your seat."  
The only way to fly is flying with a dog in cabin on Southwest, as pets are not allowed in cargo. So, confirming that your dog's size and breed meet its requirements is imperative. 
How to Fly with a Dog on Southwest?
They write in their pet policy, "Pets must be secured in the pet carrier at all times while in the gate area, during boarding/deplaning, and for the entire flight. Your pet may be denied transportation if you don't follow this requirement." So, you must have a strong and comfortable pet carrier for your furry friend, which must be leak-proof and well-ventilated. Lastly, make sure it fits their size requirements. 
Southwest Airlines® Pet Carrier - dimensions: 17" (L) x 10" (W) x 9.5" (H).
Other pet carriers with maximum dimensions of 18.5" (L) x 13.5" (W) x 9.5" (H).
Additionally, while Southwest Airlines has an open seating policy, "those traveling with pets may not sit in an exit row seat or a seat with no under-seat stowage in front of them." 
How Much to Fly with a Dog on Southwest?
Space is limited to six pets' capacity, and Southwest acts on a first-come, first-served basis, so make sure you reserve as soon as possible by calling 1-800-I-FLY-SWA®. 
The Pet Fare is $95 each way per pet carrier. The fare is refundable if you cancel your reservation or your flight is canceled, and you do not rebook. 
Are There Certain Destinations That Dogs Can Fly? 
Yes and no. Dogs can fly anywhere, anytime, domestically, but they "are not allowed to travel on international flights or any itinerary that includes an international flight."
Additionally, while flying with a dog on Southwest Airlines, pets cannot fly to/from Hawaii but can fly between the Hawaiian Islands. 
What Documentation Does a Dog Need?
Southwest rules for flying with a puppy require that the pets be vaccinated, but unlike other airlines, they do not require documentation. This is a massive upside; besides saving you carrying a folder of papers on your trip, it saves you a nice amount of money on getting its medical records; yay, more spending money. 
Can A Dog Be Denied Boarding?
Here's where you need to be careful. Even if your dog meets all the airline requirements and you go through all the necessary hurdles, Southwest might still deny your dog boarding if they display examples of disruptive behavior. Here's what Southwest writes in its policy:
"A pet that shows disruptive behavior may be denied boarding. Examples of disruptive behavior include (but are not limited to): 
Scratching, excessive whining, or barking
Growling, biting, lunging
Urinating or defecating in the cabin or gate area."
So, when flying with a dog, ensure that it is well-trained and prepared for flying and has enough treats and toys to keep them happy and calm. 
Is There a Limit to How Many Dogs You Can Travel With?
Southwest airlines only allow one pet carrier per ticketed customer, but your carrier can contain two of the same species. Unaccompanied minors aren't allowed to bring a pet on board.
Bottom Line
With the Southwest pet policy, dogs and cats can fly in the cabin as long as they fit in the required carrier. You are out of luck if you have a larger pet — dog or cat — because Southwest doesn't allow animals to fly as cargo.
But if your pet fits the requirements, you can bring your beloved cat or dog with you on your next vacation. And compared to other airlines, the fees and conditions are pretty smooth sailing on Southwest Airlines.