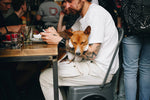 So, you're looking forward to a great night out at your favorite eatery or a chilled Sunday morning brunch, and you're wondering, are there any dog friendly restaurants near me? Or better said, are there restaurants that accept dogs? As more often than not, the answer is yes, and no. 
How Stuff Works words it flawlessly: "Before you get Fido stoked about a big night out, we need to define a pet-friendly restaurant. The term, it turns out, is a bit of an oxymoron. Yes, a pet-friendly restaurant will allow some pets to accompany their owners to the outside of a restaurant. However, they're not allowed past the entrance."
This means that even though many restaurants advertise dog-friendly, your beloved pup won't be allowed into the restaurant. For health reasons, dogs are only allowed in outdoor patios and seating areas. This is crucial to keep in mind when you make the google search "dog friendly restaurants near me now." 
Putting that to the side, let's explore some pro tips, and essential etiquette for dining with your pup. 
1. Go for a long walk first.
As a dog owner, you know your furball's mood when they're cooped up during the day; they are restless, constantly whining, or bringing you squeaky toys. And the last thing you want is to be the dog owner, disturbing people's night out. So, you must go for a long walk so your dog can release its energy and give them an excellent chance to go potty. Hunter Bowen, DVM, a Firehouse Animal Health Center veterinarian, says, "The exercise releases endorphins in your dog that will make them much happier and more relaxed during your outing."
2. Know your dog and the restaurant.
Every dog is different and has its temperament and personality. Therefore, it is crucial to be honest with your dog's character. Do they like public settings? How do they react to strangers? Are they aggressive, easily startled, or territorial? 
Similarly, what layout does the restaurant have? Is it conducive to pets? Lastly, what kind of vibe and people hang out at the joint? Are they welcoming to pets? 
3. Keep your dog close.
A restaurant is not a walk through your favorite trail, so do not use a retractable leash. Ensure that your pup is close to you, so they do not disturb other patrons. Additionally, a retractable leash can cause a hazard for trips, entanglements, and rope burns. 
4. Make sure your furry friend has adequate water.
Be aware that only some restaurants where dogs are allowed provide a dog bowl for water; even if they do, they might need more. So, ensure that you check in with your restaurant of choice and bring along your bowl for your pup to drink from. 
5. Bring along toys.
Your dog might not appreciate jazz music or drinks like you do, and the last thing you want is for it to get rowdy and bored. Bring your dog's favorite toy for them to play with, and ensure that you don't get in other patrons' way. 
6. Listen to your dog and be flexible.
Dogs are like children; even on schedule, sometimes they aren't in the mood. "When you take your dog out, listen to what they are telling you and be prepared to leave early if they are not having fun," says Bowen. "Sometimes it's hard to tell why they are stressing out, but the longer they feel that way in a public place, the harder it will be to take them out on doggie dates in the future."
7. Most importantly, have fun.
Now a blog post wouldn't be complete if we didn't relate how we have the perfect product for you. But seriously, we're not kidding; we do. 
Bark & Clean's Travel Care Kit provides a sleek, compact, and portable traveling companion for your pet's care needs. From wipes and pee pads to grooming products, B&C is a dream for a tidy pet parent. Your restaurant trips will never be the same, so enjoy your favorite restaurants where dogs are allowed; you can thank us afterward. 
Stay tuned for our upcoming blog describing our top dog friendly NYC restaurants.