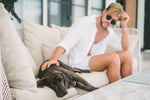 New York City is a beautiful place to visit or staycation. Its big parks, iconic sights, and top-notch nightlife make it a destination for millions yearly. And the best part for dog owners? There's no need to leave behind your beloved pet in someone else's care, as there are plenty of dog-friendly hotels in NY. 
In some of these hotels where dogs are allowed, your dog will receive equal pampering to humans. They offer dedicated dog floors lined with organic dog treats and private dog-friendly parks—on-call dog walkers and sitters to toys, plush bedding, and specially crafted pet menus. 
 Here's a list of top pet friendly hotels in New York City, as detailed by Time Out.
From the moment your dog paws into the Soho Grand's charming lobby, it will be treated like a VIP guest of honor. The dedicated floors for pet owners are lined with organic snacks from Bocce's Bakery, and the rooms are decked out with bedding, food, and water essentials. And unlike any other hotel in NYC, the Soho Grand boasts a private dog park outfitted by creative urban landscape designer Rebecca Cole. While usually the park is limited to members, hotel guests have complete access to its lush gardens and amenities.
Smack in the middle of one of the trendiest blocks in tow, the Crosby is located nestled between the East and West sides of the city. You and your pup can sleep in style at this swanky, warehouse-inspired boutique hotel in the heart of Soho. The brick 11-story building garners your attention upon first glance and maintains its allure via curated art displays, a drawing room, and a serene terrace bar.
The Kimpton; the name itself says it all. This extravagant property welcomes pets of all sizes, shapes, and colors at no extra cost! If that's not great, then what is? Their on-call concierge will arrange a personal dog walker or pet sitter if you want to hit the town without your fluffy friend. 
The Roxy hotel is a step into the class of the 20th century, exhibiting indie screening and jazz bars. From while you're sipping your complimentary glass of champagne during check-in to enjoying the hotel's many amenities, you and your dog will absolutely love this place. If you love culture, music, and art, this place is for you. The Roxy will hook little guys up with organic treats, plush bedding, gourmet food, water bowls, and doggy bags (obviously!). Plus, the property's sister hotel, Soho Grand, is just a five-minute walk away and its private dog park is open to Roxy guests as well.
Since 1927, when it was known as the Hotel Beverly, this architectural gem has been putting up guests in the big apple. The hotel provides furry guests a stellar welcome package. Think treats, toys, a collapsible water bowl, paw wipes, and plastic bags for walks around town. If that's not enough, furballs curl up in a cozy bed when rest calls. A stay here is proof all dogs do go to heaven. The best part is if the dog fancies a night on the town, you're right in the heart of New York. 
When you give the lovely staff at The James a heads up that you'll be bringing your dog along, your room will be decked out as a doggy oasis. Aside from Shinola Detroit handcrafted products, this includes a doggie bed, a collar, leash, and toys; accommodations also come standard with water bowls, organic treats, pet menus (doggie bag, anyone?), and a map of local dog parks. If you venture out solo, the hotel has you covered with doggie daycare, walkers, and pet sitters. 
Why do humans only deserve menus? The Lowes Regency has an in-room pet menu featuring gourmet meals prepared to order by chefs and licensed vets. Located on the city's posh Park Avenue, the Lowes is a luxury option for a man and their best friends. Your luggage will be considerably lighter as this posh hotel provides your pet with pooch-friendly toys, cat scratching posts, beds, and even litter boxes.
Conclusion 
So, are dogs allowed in hotels in NYC? You bet they are, and there are some beautiful options.